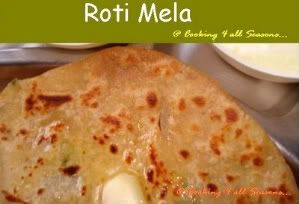 i am sending this post for the rotimela hosted by srivalli of cooking 4 all seasons.
WHENEVER I THINK OF BHATURAS I AM REMINDED OF THE BIG PLATE SIZED BHATURAS WHICH WE USED TO GET IN OUR HOMETOWN..I REMEMBER WHEN WE WERE KIDS WE USED TO GO FOR DOSA EATING,,,THE ONE WHO WAS NOT IN MOOD TO EAT DOSA USED TO EAT THE CHOLA BHATURA,..AS 15 YRS BACK...THERE WASNT MUCH VARIETY IN THE RESTAURENTS,..IT WAS EITHER DOSA OR CHOLA BHATURA....THOUGH BHATURA USED TO TASTE LIKE SALTY RUBBER..AND COMPARED TO BHATURA...CHOLA QUANTITY WAS ALWAYS LESSS,...I THOUGHT WITH TIME THINGS WILL CHANGE....FEW DAYS BACK WE WENT FOR OUTING. BACK HERE IN SINGAPORE..AND I DECIDED TO EAT CHOLA BHATURA AND I SAW THE SAME PLATE SIZED BHATURA AND CHOLA IN A SMALL BOWL...I STILL CANT BELIEVE THOUGH IN DIFFRENT COUNTRY 15YS LAPSE AND THINGS ARE STILL THE SAME....THAT DAY I DECIDED NO MORE EATING OF CHOOLA BHATURAS OUTSIDE...
.
ANOTHER MMEMORY I HAVE IS OF THE BIRTHDAY CELEBRATIONS..WHENVEVER CHILDS BIRTHDAY CELEBRATION WAS THERE IN OUR FAMILY..I REMEMBER...CHOLA BHATURA WAS ALWAYS PREPARED...NOW THOUGH THE TREND HAS CHANGED WITH TIME,,BUT STILL IN SOME HOME U WILL SEE THE SAME CHOALA BHATURA..YA NOWDAYS BHATURA IS REPLACED BY KULCHA...NEW TREND IS CHOLA KULCHA...AS PEOPLE THINK IT SAVE STIME...AS KULCHA CAN BE GET READYMADE FROM SHOP....ANYWAYS ENOUGH OF MEMORIES TIME FOR THE RECIPE...I LEARNT PREPARING CHOLA BHATURA FROM MY HUBBY BUT NOW WITH EXPERIENCE I CAN PREPARE MY OWN VARIATION....OF THE RECIPE WHICH HE THOUGHT ME....I ALWAYS USED TO ASK HIM WHETHER ONION IS FRIED OR NOT..FLOUR IS KNEADED PROOPERLY OR NOT...AND OTHER LITTLE THINGS...YA I ASK NOW ALSO ..BUT NOT THAT FREQUENTLY...I GUESS ENOUGH OF TALKING COMING TO THE TOPIC-
YESTERDAY MADE CHOLA BHATURA...THE RECIPE IS
INGREDIENTS
ONE BOWL OF KABULI CHANA SOAKED AND BOILED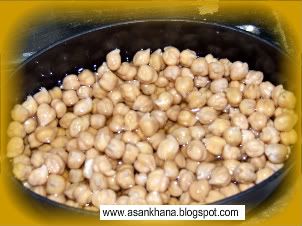 ONE INCH OF GINGER GRATED
THREE CLOVES OF GARLIC GRATED
ONE AND HALF ONION CHOPPED
ONE TOMATO CHOPPED
THREE GREEN CHILI CHOPPED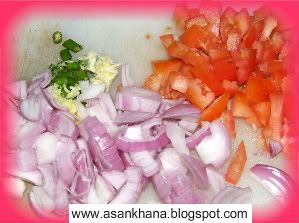 FOR THE MASALA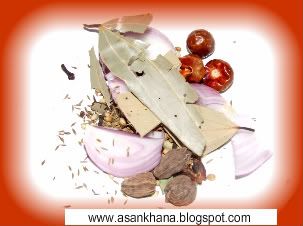 TWO BAY LEAVES CRUSHED
THREE RED CHILI
ONE TEASPOON CORIANDER SEEDS
ONE TEASPOON CUMIN SEEDS
HALF TEASPOON EACH OF PEPPER AND CLOVES
ONE INCH OF CINNAMON
TWO BIG CARDAMOM
TWO SMALL CARDAMOM
ONE STAR ANISE
HALF OF ONION
GRIND ALL THESE MASALAS IN GRINDER AND KEEP ASIDE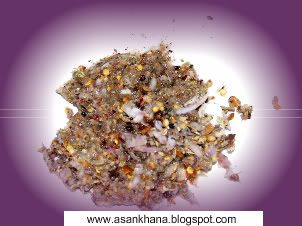 MIX TWO TEASPPON OF SALT WITH HALF TEASPOON EACH OF REDCHILLI,TURMURIC,CORIANDER AND GARAM MASALA POWDER AND KEEP ASIDE
ONE TEASPOON OF CUMIN SEEDS
OIL TO FRY ONE TABELSPOON
PROCEDURE
HEAT OIL IN NON STICK WOK ADD CUMIN SEEDS
ONCE THEY START TO SPLUTTER ADD GRATED GINGER AND GARLIC,AND WHEN DONE ADD GREEN CHILI FOLLOWED BY ONION AND TOMATOES.
ONCE THE ONION STARTS TUR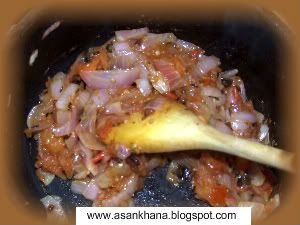 NING BROWN
MIX THE SALT MIXTURE WITH THE GROUNDED MIX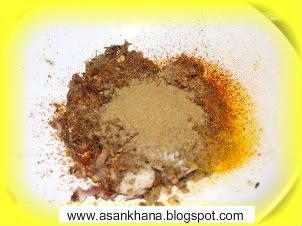 AND ADD TO THE ONIONS...KEEP FRYING..TILL U SEE OIL ALONG THE SIDE OF THE WOK.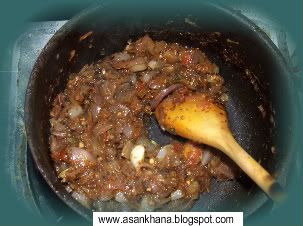 ONCE DONE ADD THE FIRED MASALA TO THE BOILED CHOLA AND PRESSURE COOK FOR THREE WHSTELS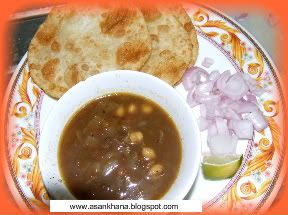 FOR THE BHATURAS
INGREDIENTS
DEPNEDING ON YOUR NEED MAIDA
HOT WATER TO KNEAD THE DOUGH
OIL ONE TEASPOON
CURD TWO TABELSPOON
PROCEDURE
KNEAD THE DOUGH AND KEEP FOR 6 HOURS
AFTER 6 HOURS MAKE SMALL BALLS OF THE KNEADED DOUGH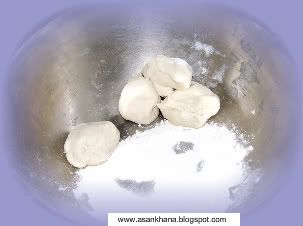 NOW WITH THE HELP OF ROLLING PIN MAKE 5 INCH DIAMETER BHATURA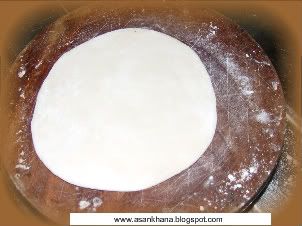 HEAT OIL IN THE WOK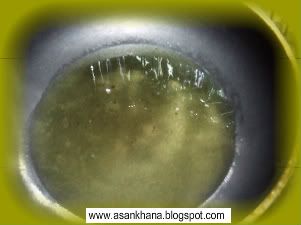 FRY THE BHATURA AND KEEP TURNING TILL IT START TURNING BROWN.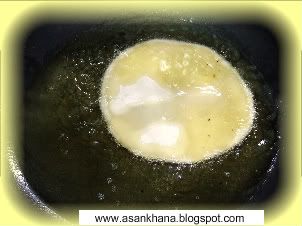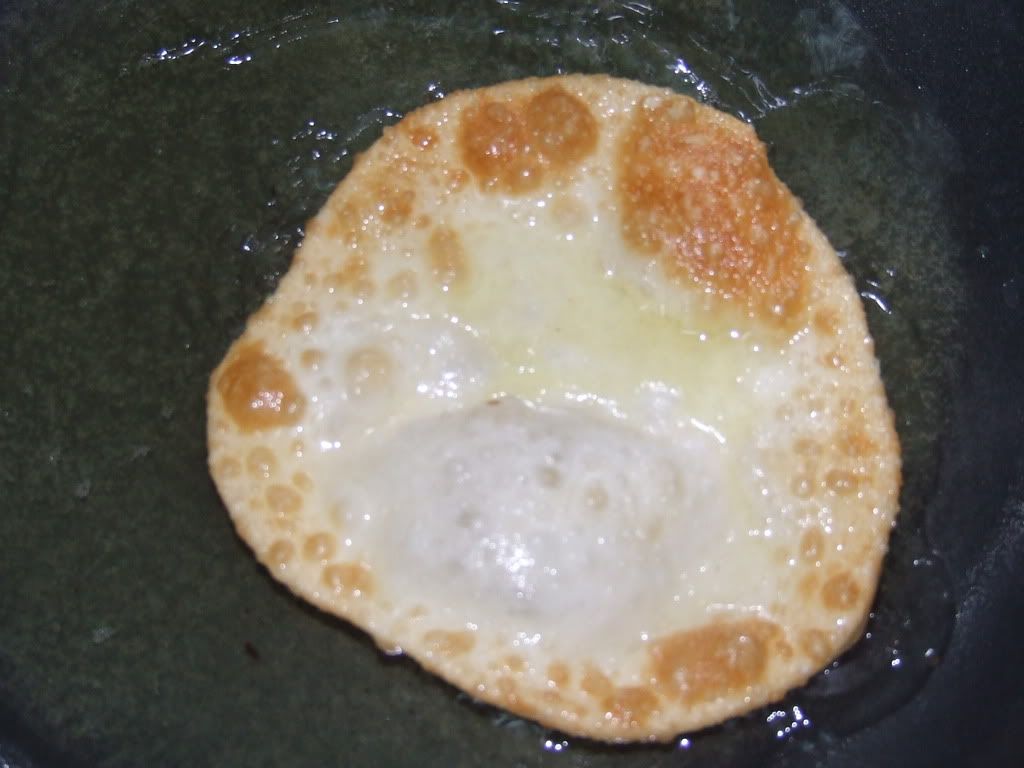 ENJOY WITH HOT CHOLA