its past 12....wht a day enjoyed each econd,...
" USE YOUR EYES AS IF TOMORROW YOU WOULD BE STRICKER BLIND..HEAR THE MUSIC OF VOICES,THE SONG OF THE BIRD,THE MIGHTY STRAINS OF ORCHESTRA,AS IF YOU WOULD BE STRICKER DEAF TOMORROW. TOUCH EACH OBJECT AS IF TOMORROW YOUR TACTILE SENSE WOULD FAIL.SMELL THE PERFUME OF THE FLOWER,TASTE AND RELISH EACH MORSEL ,AS IF TOMORROW YOU COULD NEVER SMELLL AND TASTE AGAIN.
MAKE THE MOST OF EVERY SENSE,GLORY IN ALL THE FACETS OF PLEASURE AND BEAUTY WHICH THE WORLD REVEALS TO YOU. BY ( HELEN KELLER )
LOVE THESE WORDS BY HELEN KELLER GOT THM FROM THE BOOK WHICH I AM READING NOW....EVERYDAY INDULGENCE....,..
i am sending the dhokla recipe for WBB -21 HOSTED BY EASY CRAFT
what a day made dhokla,,for the firts time,,,,and by smell i can make out it will taste great too,...so here goes
Recipe name Dhokla cooked in microwave
ingredients
one and half cup besan
one cup water
one tbsp oil
half tsp haldi
1tsp each of ginger and chilli paste
lemon juice two tsp
eno slat one half tsp
soda bi carn one fourth tsp
for the tempering
1tsp rai
2 tbsp oil
3 green chillies slit
white vinegar one fourth cup
3 fourh cup water
1 tbsp sugar
procedure
grease flat round dish with oil keep aside
sift the besan to avoid lumps
mix besan ,water ,ginger chilli paste,turmeric powder ,eno,sugar, soda bicarb,oil and salt
beat well for few seconds
add lemon juice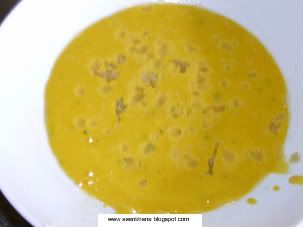 pour this mixture to greased dish and microwave uncovered for 6 minutes
keep aside
to temper microwwave oil,chilli,vinegar ,water,sugar and rai for 5 minutes
pour over the dhokla and wait for half an hour to absorb it and turn soft
cool and cut into pieces
garnish with chopped coriander
Recipe name Green chutney/Dhania chutney/green chutney
recipe source mother
Ingredient
one cup coriander leaves chopped
1 inch ginger
two green chilli
salt as per taste
amchur 1tsp
lemon juice one tsp
procedure
mix all the ingredients and grind in a mixer.