ITS SHOWING 9:35am in the watch..usually i get up everyday this time....after sending hubby off at 8 for hospital...but today it was different got up at 6 in the morning,.reason,..advay got up early today...tried to cheer myself up by preparing MASALA CHAI,,,RECIPE of which i had taken down from some book in library long ago,,,had soaked black eyed beans yesterday night ,..stirfried them in 1/4th tsp of oil,.added salt and crushed blackpepper,,and early breakfast for both of us was ready....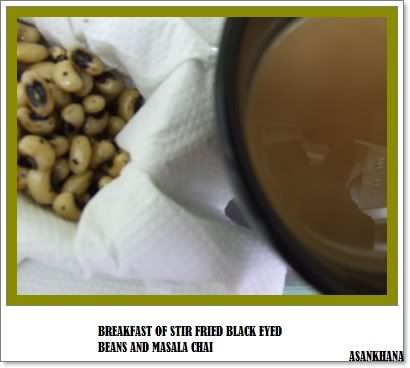 recipe of masala chai,,,
ingredients
tea leaves 4 teaspoon
500ml water
250ml milk
sugar 4 teaspoon
cardamom pod 3 crushed
half teaspoon ginger pulp
2.5cm cinnamom stick
garlic clove 2 crushed
6 mint leaves
procedure
combine all the ingredients in allarge saucepan,bring to boil,
reduce heat and simmer for 2 to 3 minutes
turn off the heat and allow to rest for a minute
strain and serve while still hot.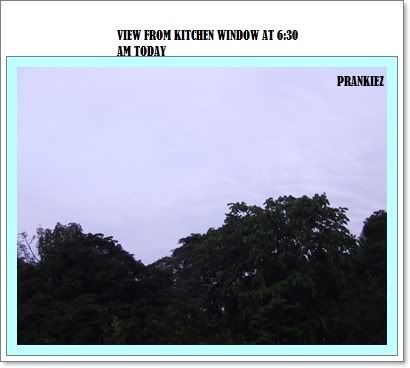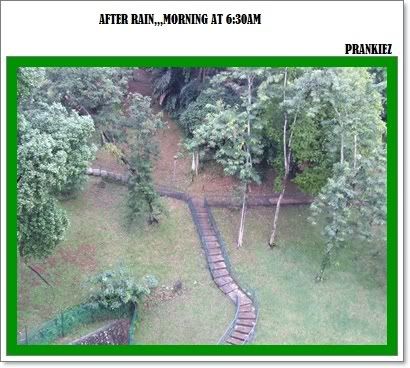 Morning it was raining ,,clicked few pics,..through my kitchen window,...normally this time i sleep everyday and by the time i get up sun is already out,..but today i could feel real morning,..with fresh breeze which comes after rain,..really felt fresh today after such a long time,,,so couldnt resist myself from clickin pics,..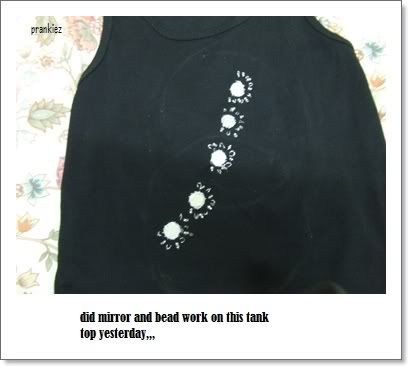 .
finished this tank top of mirror and bead work yesterday...while hubby prepared RAJMA CHAWAL...yesterday i was not well ,,nothing great,,,monthly ritual,,,:-)...first day i really feel sick..good he himself prepared dinner without asking,..and within an hour rajma chawal was ready...i had not soaked rajma,,i wonder how he boiled and prepared at the same time...so here goes the recipe of RAJMA
INGREDIENTS
150GM RED BEANS( RAJMA )
TWO ONIONS CHOPPED
10 GARLIC CHOPPED
GINGER CHOPPED ONE INCH
green chilli four chopped
CUMIN SEEDS ONE tsp
oil to cook
garam masala one tsp
coriander powder
salt to taste
half tsp black pepper seeds
procedure
heat oil in pressure cooker,add cumin seeds,followed by black pepper
once they start spluttering add chopped ginger,garlic and green chilli
once they start changing colour add chopped onions
when onions start changing their shape,add coriander powder,salt and garammasala
keep frying till u see oil along the sides,..now add the boiled kidney beans
fry for 3 to 4 minutes,..add water.....and pressure cook for 5 to 6 whistles
we had with plain rice....it was spicy and delicious..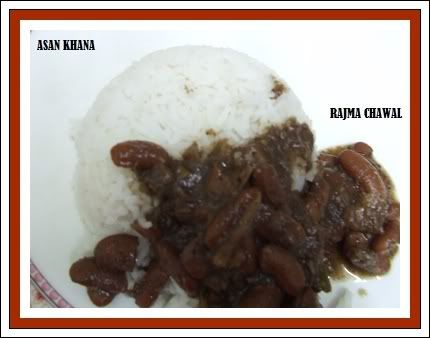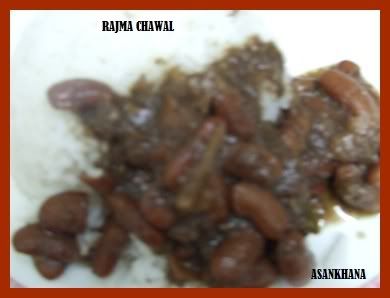 coming to the award VANI and PRAJUSHA have passed yum yum award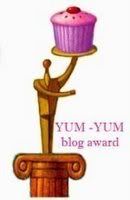 thanks a lot
VANI
and
prajusha
for considering my blog for yum yum award,..
i pass this award to
INDRANEE OF SPICE AND CURRIES
-
ARCHY OF ARCHYS RECIPE
-
LAVANYA OF COOKERY CORNER
-
SAILAJA OF SAILAJAS RECIPE
PRAJUSHA HAS PASSED ME GAINT BEAR HUG AWARD,..THANKS PRAJUSHA..LOTZ OF BEAR HUGS TO U TOO....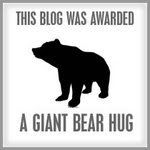 ENJOY UR AWARDS FRENS,,CEE U IN MY NEXT POST TOMORROW,...
NUTRITION FACT FOR RED KIDNEY BEAN
SERVING SIZE 177gm
source from
here
PROTEIN 15gm
carbohydrate 40gm
sodium 421mg
fat 1gm
calories 225
cholestrol 0mg
nutrition fact for stir fried black eyed beans
source from here
quantity one cup
protein 13gm
fat 1gm
carbohydrate 35gm
calories 190