Few days back,,,had invited Sheetal for lunch at home,,,till a day before had not decided what to prepare for lunch,as i had to meet her around 12 ,had to finish my preparation before 12,..cooking is not tough for me,..problem was managing was my son...cause these days he gets up at 8 ...and is active till noon,..and i had to manage both advay and cooking,..to charge myself had tea in the morning,..started with the kofta preparation,..couldnt click the pics,,while cooking,,,as i was managing many things together,..advay bange dhis head twice,..so my sis with whom iw as chattin through skype too ,,.told me to make him seat on his chair,..and put the seat belt,,thats what i did,..and my mother and sis were entertainin my son online while i was cookin...sigh..this is somethin which i wil remember always,..talking about my sis there is great news to share...she is selected to receive the star pole award for best business feature in business today...really happy for her...:-)
Sorry sheetal i knw i promised u long back that will mail u the recipe asap,..but many things were keeping me busy,..finally thought of blogging this recipes..so that it reaches..you...sorry for keeping u waiting from such a long time,as i had to prepare koftas in hurry,,,i didnt had much time,..i had to prepare cottage cheese too,.
ingredients
for the koftas
cottage cheese mashed one cup
bread soaked and mashed half cup
potato boiled one
one table spoon plain flour
salt to taste
black pepper crushed one tsp
for the garvy
paste of onion,tomato,garlic one cup
green chilli paste one tsp
cumin seeds one tsp
milk half cup
khoya two tabelspoon
mixture of red chilli,turmeric ad coriander one tbsp
fresh cream to garnish one tablespoon
chopped dryfruits two tablespoon
oil to cook
salt to taste
procedure
for the koftas
mix everything together
make small balls
heat two tablespoon oil
shallow fry the koftas
keep turning till they are brown from both sides
p.s. i never deep fry the koftas,,,if u wish u can deep fry them
for the paste
heat oil in wok
add cumin seeds
add the prepared onion paste and keep frying till u see oil
along the sides of the vessel
now add the masalas,slat and mix well...
once masals start sticking,,add milk followed by khoya
add water and let it boil
just before serving,put the prepared koftas inthe gravy,
and heat for a minute or two.
before serving garnish with fresh cream and chopped dryfruits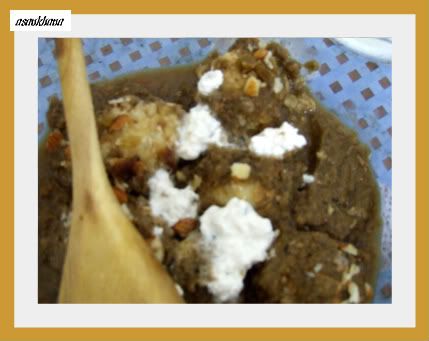 INGREDIENTS
CHOPPED GREEN CHILLI TWO
GARLIC CRUSED TWO
ONION ONE CHOPPED
CHOPPED AND BOILED CAULIFLOWER HALF
CHOPPED AND BOILED POTATO ONE
CUMIN SEEDS
GARAM MASALA ONE TSP
SALT TO TASTE
RED CHILLI ONE TSP
PROCEDURE
HEAT OIL IN WOK
ADD CUMIN SEEDS ONCE THEY START SPLUTTERING ADD
CHOPPED ONIONS,GARLIC AND GREEN CHILLI
ONCE ONIONS START CHANGING COLOUR ADD SALT AND RED CHILLI
KEEP FRYING'
NOW ADD THE POTATOES AND CAULIFLOWER
COVER AND COOK
KEEP CHECKING
ONCE DONE MIX GARAMMASALA AND SERVE.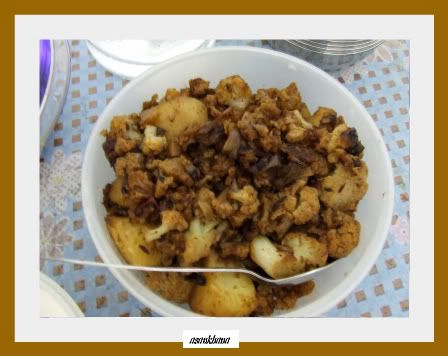 paneer kofta goes to EAT HEALTHY PROTEIN RICH EVENT HOSTED BY SANGEETH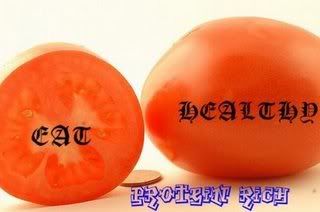 AND ALLO GOBHI AND PANEER KOFTA GOES TO UP SWC HOSTED BY NUPUR OF CINNAMOM HUT.
LAKSHMI OF TASTE OF MYSORE PASSED ME 'BEAR HUG " AWARD....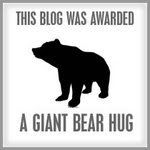 i pass this award to
priti of
indiankhana
sukanya of
sukanyas musing
srilekha of
me and my kitchen
and vedamurthy of
iyengar kitchen
congrats friends enjoy ur award and thanks,,,Lakshmi for passing me this gaint bear hug ,lotz of hugs to u too,..thanks for being there,,,i really cherish ur friendhsip,,,and thanks to blogging,,,i got u as a friend...
/a>/>/>>/>/>>/>>/>>/>