i am sending this recipe of ajwain roti for the roti mela hosted by srivalli of cooking 4 all seasons,..
INGREDIENT FOR AJWAIN ROTI
WHETAFLOUR TWO CUP
CAROM SEEDS 1tsp
RED CHILI POWDER 1/2tsp
AMCHUR 1/2tsp
SALT TO TASTE
OIL OR BUTTER TO TASTE
PROCEDURE
KNEAD THE DOUGH AND ADD SALT ALSO,KEEP ASIDE
IN A MIXING BOWL ,MIX TOGETHER RED CHILI,CAROM SEEDS,AMCHUR AND SALT,KEEP SIDE,KEEP 1TSP OF OIL IN A BOWL.
WITH THE HELP OF ROLLING PIN,ROLL OUT A SMALL PORTION APPLY OIL,SALT,REDCHILI,CAROM AND AMCHUR
CLOSE AND ROLL IT WITH THE HELP OF DRY DOUGH,REPEAT FOR ALL
ROAST THE ROTIS ON HOT TAVA TILL BROWN FROM BOTH SIDES.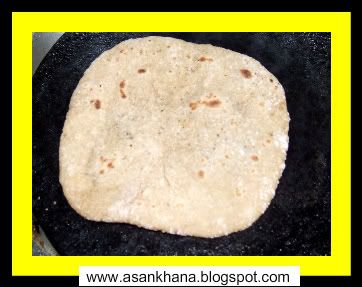 PROCEDURE FOR DAHI WALA GHOBHI OR CAULIFLOWER IN CURD
INGREDIENTS
CHOPPED CAULIFLOWER ONE ( I USUALLY KEEP THE CUT CAULIFLOWER IN BOILED WATER,IT SOFTENS IT )
CHOPPED POTATO IN CUBES ONE
ONION CHOPPED ONE
TOMATO HALF CHOPPED
GREEN CHILI THREE CHOPPED
GARLIC TWO CHOPPED
CUMIN SEEDS ONE TEASPOON
OIL ONE TABLESPOON
SALT TO TASTE
CURD THREE TABLESPOON
RED CHILI HALF TABLESPOON
TURMERIC HALF TABLESPOON
PROCEDURE
HEAT OIL IN NONSTICK WOK,ADD CUMINSEEDS FOLLOWED BY CHOPPED GREEN CHILI AND GARLIC
ONCE THE GARLIC STARTS CHANGING COLOUR ADD CHOPPED ONION FOLLOWED BY TOMATO
NOW ADD THE MASALAS,SALT AND POTATOES..
ONCE THE POTATOES ARE HALF DONE ADD THE CAULIFLOWER AND SAUTE FOR TWO MINUTES
NOW ADD CURD..AND MIX WELL ,AND COVER AND COOK FOR A MINUTE
EAT WITH AJWAIN ROTI...OR NORMAL ROTI