I know its been long time,these days really busy with tshirt painting ,finally Scotland order is dispatched nd reached too...now busy doing tshirt with dried stem,..
made spagetti in mixveg and cottage cheese ball sauce,..for the first time...as i was preparing for the first time,.i didnt had much idea about the sauce,..the mix veg balls i prepared ,..but for the sauce i browsed through recipes on net...and i got this recipe from
Sukanyas
blog,..did some changes and prepared the sauce...as i forgot to add breadcrumbs or any binding agent to the mixveg ball ,..i had tough time frying the balls,..in wok,,,they started breaking off,..soi tranferd them to non stick pan,,..and finally got what i exactly wanted...
the recipe for the spaghetti in mix vega nd cottage cheese ball sauce goes like this...
ingredients for the mix veg ball
one cup freshly prepared cottage cheese
grated carrot half cup
grated cabbage one cup
grated capsicum half cup
grated green chilli
salt to taste
blackpepper crushed one teaspoon
what i forgot to add
bread crumbs
cornflour
plain flour..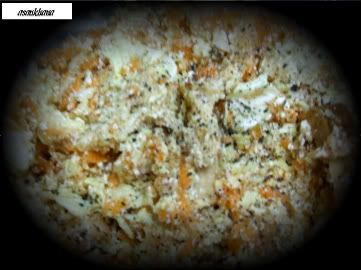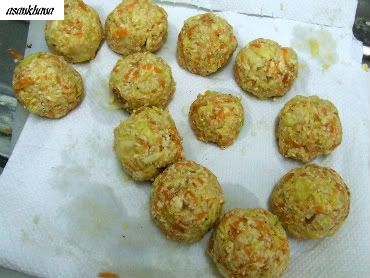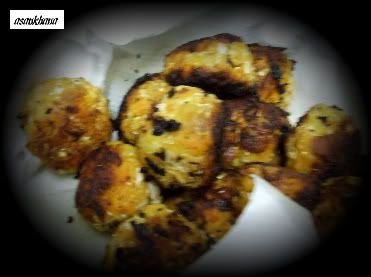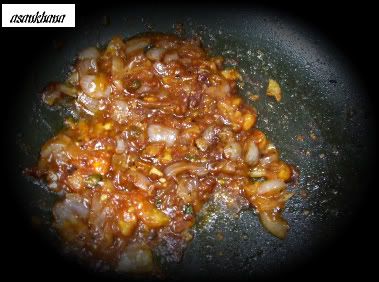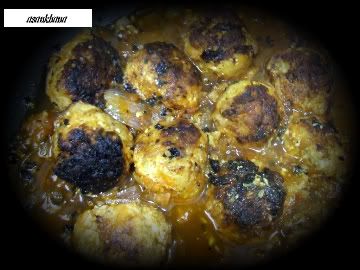 mix all the ingredients,and make small balls.,..and fry in wok or pan...no need to deep fry,...keep on kitchen towel to absorb the oil.
to make the sauce i followed the same recipe given by Sukanya ,..u can click
here
for the recipe...
SAILAJA
and
JZ OF TASTY TREATS
have passed me GOOD CHAT BLOG AWARD,i pass this award to my blogger friends with whom i am in touch through mail,and keep discussing recipes and food events..thanks a lotz friends for sharing such delicious recipes..this award is passed to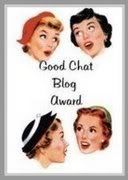 LAKSHMI
of tasteofmysore
Haripriya
of indianhut
Sheetal
of sweetymy kitchen
and
Vani
of illatharasi
Sailaja , food witha pinch of love and prajusha have passed me nice matter award
thanks a lot friends...for considering my blog for nice matters award//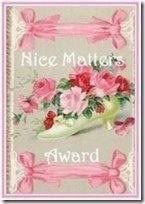 i pass this award to
priya of
food for bliss
habiba of
khasiyat
purnima of
fantasycooking
nags of
cooking and me
sailaja passed me inspiration blog award ,.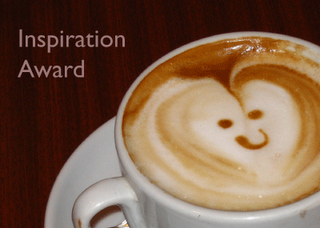 This award was conceptualised by Jamie of the Flavour Pantry. Jamie tells the following,"This is given to bloggers whose stories and recipes inspire us. Whether it's to eat healthier, dive back into our past to conjure up something we ate as children, or just make the light bulbs in our brains go on with a new idea for a recipe. As recipients of this award, please share with us what inspires you and then pass on the Inspiration Award to 4 other deserving bloggers. Please let them know what the award means and what to do with it."
the things which inspire me are-
lakshmi's blog because of which asan khana is there,..and has completed three and a half months..
my mothers cooking,thanks for the cooking lessons on skype,..and those tips for cooking...
sia,asha cofee and other food bloggers,...i am really dazed looking at their blog,..and the nice pics,..and presentation...love to read their post
my hubby ,..for every experiment he is there,,,without complaining
pass this inspiration award to
Lakshmi of taste of mysore
Asha
of foodies hope
Sia of
monsoon spice
and
Siri
of siricorner
sailaja ,neha and devipriya have passed me rockin girl blogger award ,
..i

have already passed this award,...
thanks a lotz friends for passing so many awards...congrats...for ur well deserved awards...
enjoy and have happy and safe week...:-)