hi guys i think its time i post about what i did with the leftover lahsuni chicken...but before that will share some memories which inspired me for this recipe,
back in my college days...whenever i used to go shopping with my friends,,,this was one of the regular thing which i used to have in blore...i am talking about frankies if i am not wrong but my short memory suggests me this name,,,Frankie's chicken roll...priced at 15rs each,,or maybe 20...real good rolls...and when they used to prepare i used to watch how they are preparing ,...so my recipe is my version of what i had seen there,,,really miss those days,,and friends,...
roll in one hand ...shopping bag in other hand,,,we used to walk,talk,or wait for the movie show,..cause most of the time,,,we had to rush,,,before time to get the tickets,...or even if we were not shopping..we were just window shopping and thinking of the time ,,when we will earn so that we need not think about money...roll was always there...and sometimes we had to drench in rain to get the roll,,,or stand in queue long one,,,but the first bite and u forget everything,...that was the taste,.
.now place is different...friends are different,...and even roll is different....sigh...
miss those days and my frens....know enough of memories...sorry i don't want to bore u more,,
ingredients for one person
one leftover roti
one egg'
leftover lahsuni chicken or u can use any leftover veggie or chicken(cooked)
chopped small onion one
half lemon juice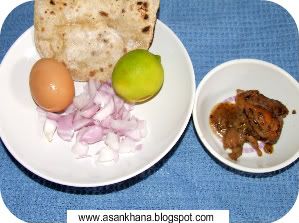 chat masala
one tsp oil
procedure
heat oil in pan.
add roti on the pan and keep turning till it starts turning brown and crispy from both side.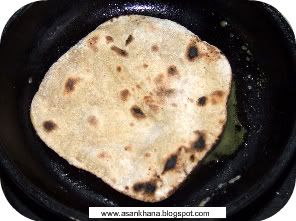 now add the egg on top of the roti and spread it evenly,..on the roti.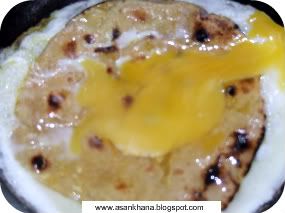 once the egg gels with the roti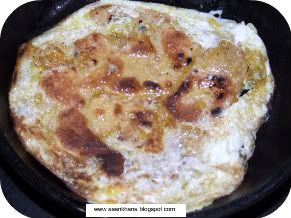 add the chicken in the center followed by the chopped onions,lemonjuice and chat masala.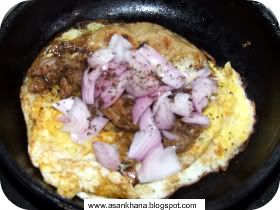 and slowly fold the roti from both sides to form roll
once done remove from the pan,fold the roll in paper napkin and enjoy with ur favourite sauce,..
enjoy madi...
miss ya frens